An environment adapted to the youngest to discover the world of skiing.
With our mascot Snowli and his animal friends, learn the basics to become a future champion.
Age : from 3 to 5 years old.
Swiss Snow League test : included in "with test" courses.
Snack: included.
Date : from the 26 December 2022
Duration : 1 leçon = 2h 
Meeting point : Snow garden.
Ski pass : In the snow garden, the children do not need a pass for the ski lifts.
News : A reserve date is planned for group lessons with a test. This date will only be used in case of unexpected closure of the ski area. The schedule of the reserve date can be deferent than the usual course
Sticks are not required at the snowgarden.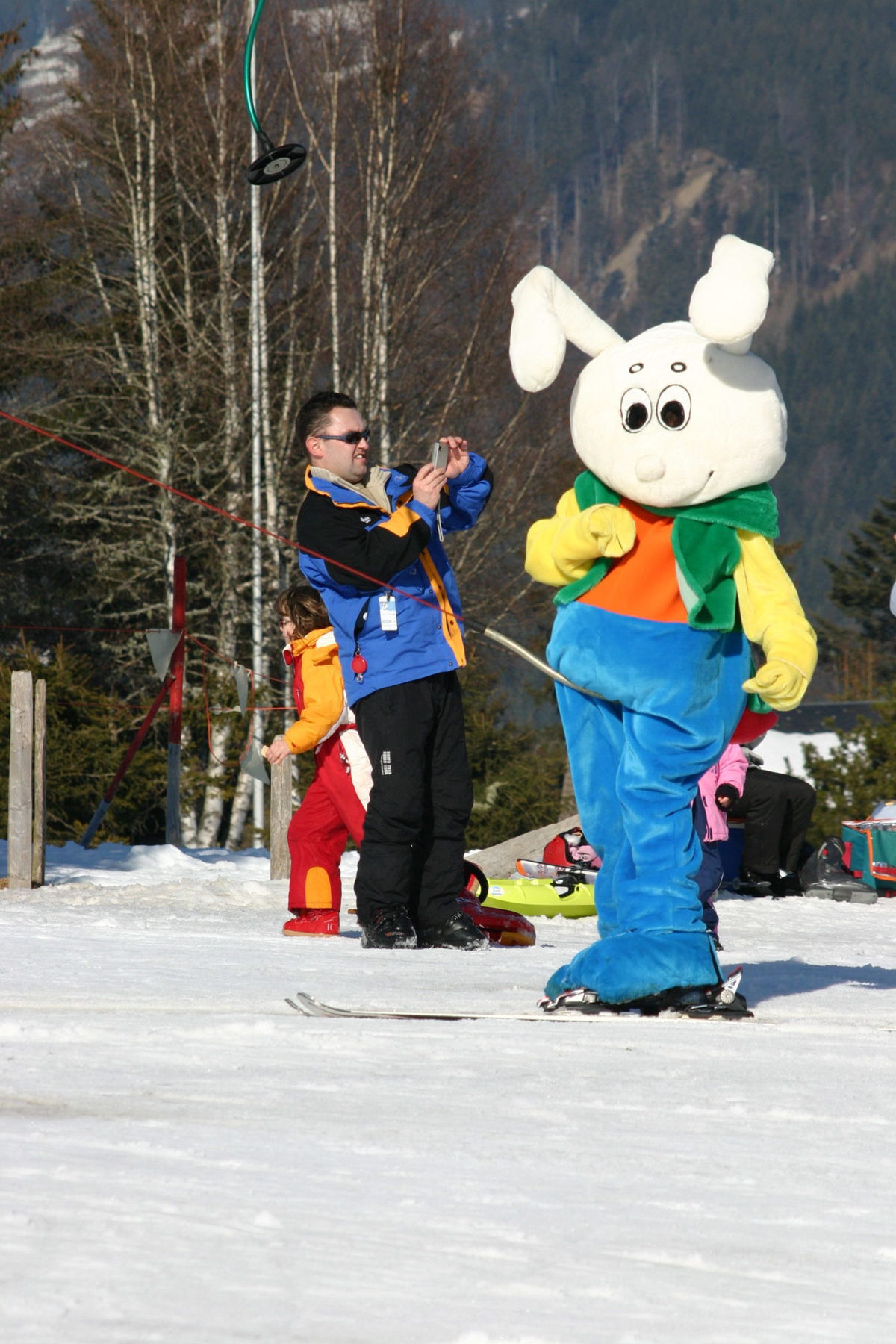 Snowgarden with test
Group courses "with test" are series of 5 courses with follow-up. On the 4th day, a small technical evaluation of the student's abilities is made. At the end of the last session, a medal ceremony is organised with all the children of the group classes. Progress is reported in a small notebook. For more information, see the "Swiss Snow League" page.
Snowgarden without test
Group courses "without test" are one-on-one courses, without follow-up. There is no obligation to follow specific dates, come and ski when it suits you! Due to the non-continuous nature of the lessons, the tests are not organised during these courses.
1. Snow garden courses with test
boite vide
CHRISTMAS HOLIDAYS : from 26 to 30 December 2022
SCHEDULE :
Morning : 10:15 – 12:15
Date of reserve : to be defined
NEW YEAR'S HOLIDAYS : from 2 to 6 January 2023
SCHEDULE :
Morning : 10:15 – 12:15
Date of reserve : to be defined
SNOW HOLIDAYS : from 6 to 10 February 2023
SCHEDULE :
Morning : 10:15 – 12:15
Date of reserve : to be defined
HOLIDAYS OF VAUD : from 13 to 17 February 2023
SCHEDULE :
Morning : 09:45 – 11:45
Afternoon : 14:15 – 16:15
Date of reserve : to be defined
HOLIDAYS OF FRIBOURG/VALAIS/GENEVA : from 20 to 24 February 2023
SCHEDULE :
Morning : 10:15 – 12:15
Date of reserve : to be defined
HOLIDAYS OF NEUCHÂTEL : from 27 February to 3 March 2023
SCHEDULE :
Morning : 10:15 – 12:15
Date of reserve : to be defined
WEDNESDAYS AFTERNOON «THE SCHOOLCHILDREN» COURSE : 11, 18, 25 January, 1, 8 February 2023
SCHEDULE :
Morning : 14:30 – 16:30
Date of reserve : to be defined
SATURDAYS MORNING «THE YOUTH» COURSE : 7, 14, 21, 28 January, 4 February 2023
SCHEDULE :
Morning : 09:45 – 11:45
Date of reserve : to be defined
SUNDAYS MORNING «THE EARLY BIRD» COURSE : 8, 15, 22, 29 January, 5 February 2023
SCHEDULE :
Morning : 09:15 – 11:15
Date of reserve : to be defined
EASTER HOLIDAYS : depends on the snow conditions
SNOW GARDEN RATES WITH TEST
5 lessons of 2h
CHF 180
Test & medal included
2. Snow garden Flexidats without test
boite vide
NEW YEAR'S HOLIDAYS : from 2 January to 6 January 2023
SCHEDULE :
Aternoon : 14:15 – 16:15
SATURDAYS : 7, 14, 21, 28 January 4, 11 February 2023
SCHEDULE :
Afternoon : 14:15 – 16:15
SATURDAYS : 18, 25 February 4, 11 March 2023
SCHEDULE :
Afternoon : 09:45 – 11:45
SUNDAYS : 8, 15, 22, 29 January 5, 12 February 2023
SUNDAYS : 19, 26 February 5, 12 March 2023
WEDNESDAYS : 22 February 1, 8 March 2023
SNOW GARDEN RATES WITHOUT TEST
1 lesson of 2h
CHF 42
Without test